Bike Routes
Your sporting holiday at Terme Santa Agnese will be a truly unforgettable experience thanks to a varied territory: routes passing through natural landscapes and historic villages together with the renowned Romagna hospitality and a mild climate.

At Bagno di Romagna, you can discover the pleasure of cycling in all its forms, from easy and short tours to more challenging ones, not to mention the difficult trails through woods and up mountains: no matter if you are a beginner or a professional, you are sure to find the itinerary that is right for you.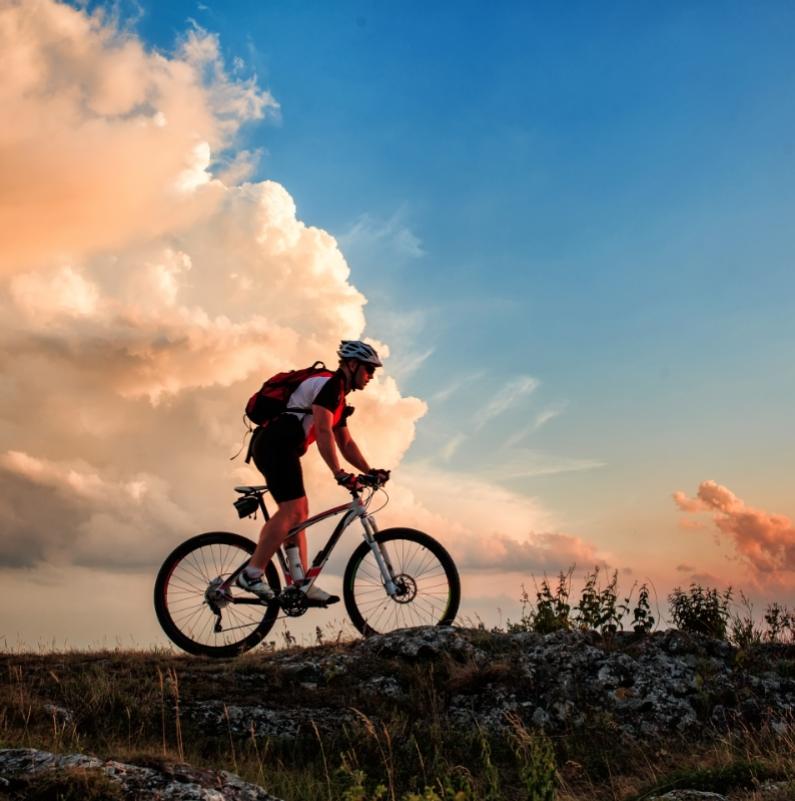 THE PLEASURE OF CYCLING
Services for cycling enthusiasts
The hotel offers a large storage room for your precious bicycles, equipped with hooks, technical equipment and space to prepare for rides.
Closed storage
Workshop for repairs and minor maintenance
Area equipped for washing and inflating bicycles with cleaning material
Laundry service for technical clothing (minimum stay 3 nights)
Reinforced breakfast
Special conditions at local sports shops
Cycling routes and route maps are available
Medical and physiotherapy assistance
Massage therapist on request
Indoor fitness room available
Thermal pool with whirlpools and relaxing waterfalls
Motorised assistance and recovery service in the event of a mechanical problem or demanding excursion (for a fee)
Special conditions for bicycle hire (MTB. Road, e-Bike)
Expert guides for group tours
Organised transfer service to/from airport
The Santa Agnese Thermae collaborate with mountain bike and road bike associations and are happy to arrange tours for every need, recommending the best routes for safe and peaceful cycling.

Cycling in Romagna-Tuscany through natural landscapes and historic villages

ROUTES
We have collected a few unforgettable cycling routes for you to choose from:
By road bike from Bagno di Romagna along the roads of the Giro d'Italia
Bagno di Romagna – Borello – Spinello – Passo del Carnaio – Bagno di Romagna
89 km - 879 m difference in altitude
Bagno di Romagna – Verghereto – Balze – Monte Fumaiolo – Alfero – Passo Incisa – Bagno di Romagna
50 km - 1076 m difference in altitude
Bagno di Romagna – Passo dei Mandrioli – Badia Prataglia – Poppi-Stia – Passo della Calla – Campigna – Santa Sofia – Passo del Carnaio – Bagno di Romagna
129 km - 1579 m difference in altitude
Mountain biking along picturesque forest trails and paths in the Casentinesi Forests National Park
Cancellino – Lama – Cancellino
40 km - 500 m difference in altitude
Bagno di Romagna – Passo dei Mandrioli – Nocicchio – Monte Carpano – San Piero in Bagno – Bagno di Romagna
25 km – 600 m difference in altitude
Ridracoli – Casanova dell'Alpe – La lama – San Paolo in Alpe – Biserno – Ridracoli
49 km – 1100 m difference in altitude
Cycling in the Park / video